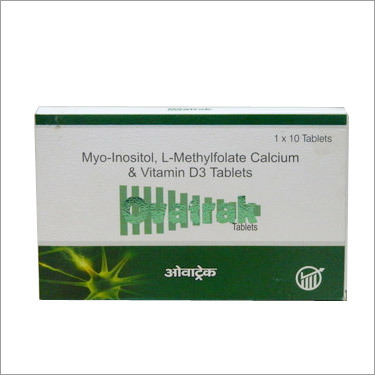 Myo Inositol, L-Methylfolate Calcium & Vitamin D3 Tablets
Product Description
Myo Inositol, L-Methylfolate Calcium & Vitamin D3 Tablets
Each film coated tablet contains:
Myo- Inositol : 1000 mg
L-Methylfolate Calcium : 100 mcg.
Vitamin D3 : 1000 IU
Excipients : q.s
Approved colour used.
Appropriate overages added to compensate any loss on storage.
Other Ingredients: Strach, Ethyl Cellulose , Croscarmellose Sodium, Polyvinylpyrrolidone, Talc, Collcidal Silicon Dioxide, Magnesium stearate, Cellulose acetate phthalate, Hydroxypropyl, Methylcellulose , PEG 6000.
Class II preservative and antioxidant, contains permitted synthetic food colours
Store in cool and dry place.
Protect from light and moisture.
Dietary Supplement.
Usage: As directed by Specialist.
Keep out of reach of children