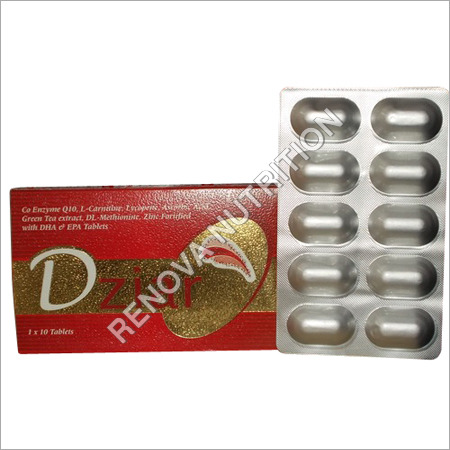 Male Infertility Tablet
Product Description
Counted among the illustrious manufacturers and suppliers of Male Infertility Tablet, we are marked a distinct position in the industry. In order to provide best quality output, this tablet is formulated at our well-equipped processing unit using quality assured ingredients. This tablet helps in enhancing male sperm counts, which is essential for fertility. With the support of expansive distribution network, we deliver this Male Infertility Tablet at our clients' end within mentioned time frame.
Features:
No side effect
Safe for oral consumption
Accurate composition
Effective
Composition

Each Film coated tablet contains:




CO Enzyme Q10

50 mg

L-Carnitine

500 mg

Lycopene powder 5% W/W

2500 mcg

Ascorbic Acid

295 mg

Green tea Extract

200 mg

DL-Methionine

50 mg

DHA

60 mg

EPA

90 mg

Zinc Sulphate Monhydrate

12.5 mg

Colour: Approved colour used
Ingredients:
CO Enzyme Q10, L-Carnitine, DL-Methionine Lycopene, Zinc Sulphate, Green Tea Extract, DHA, EPA, Maize starch, Stearic acid, Purified Talc, Ascorbic Acid, Colloidal Sillicon Dioxide.
Dietary Supplement
Usage: As directed by Specialist.