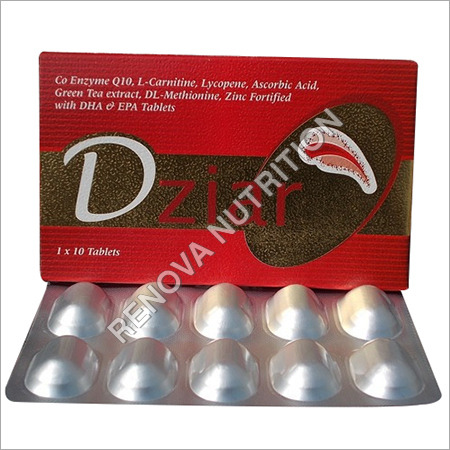 Male Infertility Supplement
Product Description
Our capabilities and sound resources have enabled us to manufacture and supply Male Infertility Supplement. This dietary supplement help in improving sperm count and other factors, which are the responsible for the health of the sperm. Our team of medical researchers conduct comprehensive research to formulate this supplement. We process this supplement in hygienic atmosphere to protect from contamination. This Male Infertility Supplement is delivered at our patrons' site within specified time frame with the support of team of logistics experts.
Features:
Improves sexual health
Filled with essential multivitamins and minerals
Anti-allergic
No trans fats
Composition

Each Film coated tablet contains:




CO Enzyme Q10

50 mg

L-Carnitine

500 mg

Lycopene powder 5% W/W

2500 mcg

Ascorbic Acid

295 mg

Green tea Extract

200 mg

DL-Methionine

50 mg

DHA

60 mg

EPA

90 mg

Zinc Sulphate Monhydrate

12.5 mg

Colour: Approved colour used
Ingredients:
CO Enzyme Q10, L-Carnitine, DL-Methionine Lycopene, Zinc Sulphate, Green Tea Extract, DHA, EPA, Maize starch, Stearic acid, Purified Talc, Ascorbic Acid, Colloidal Sillicon Dioxide.
Dietary Supplement
Usage: As directed by Specialist.