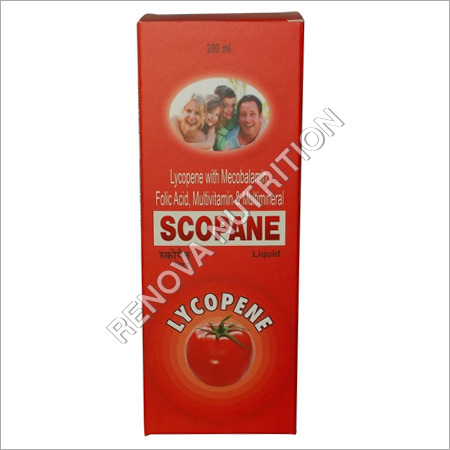 Health Syrup
Product Description
Health Syrup
| | |
| --- | --- |
| Nutritional Information: | Per Serving (Per 10 ml) |
| (Approximate Values) | (Net content) |
| Energy | 4.44 Kcal |
| Carbohydrate | 1.05 gm |
| Protein | 0.02 gm |
| Fat | 0.016 gm |
| Zinc Sulphate | |
| Eq to elemental Zinc | 15.0 mg |
| Niacinamide | 10.0 mg |
| Ascorbic Acid | 10.0 mg |
| Maganese Chloride | |
| Eq to elemental Maganese | 1.4 mg |
| D- Panthenol | 0.75 mg |
| Thiamine Hydrochloride | 0.75 mg |
| Riboflavin (As Riboflavin Phosphate) | 0.75 mg |
| Pyridoxine hydrochloride | 0.45 mg |
| Mecobalamin | 250 mcg |
| Folic Acid | 0.45 mg |
| Chromium Chloride | |
| Eq to elemental Chromium | 65 mcg |
| Sodium Selenate | |
| Eq to elemental Selenium | 60 mcg |
| Cupric Oxide | |
| Eq to elemental copper | 2.5 mcg |
| Vitamin A | 1500 I.U |
| Lycopene (6%) | 1000 mcg |
| Vitamin E | 25 I.U. |
| In a flavoured sorbitol base | Q.S |
Usage: 10 ml (teaspoonful) once daily after meals or as directed by the dietician.
Store in a cool, dark and dry place.
Protect from direct sunlight.
Keep out of reach of children.
Nutritional Food Supplement
Not for medicinal use.
Appropriate overages of vitamins are added to compensate loss on storage.
Other Ingredients: Glycerin, EDTA Polysorbate-80, Propylene Glycol, Sorbitoal Aspartame, Flavoures Food Colours and class II Preservative.