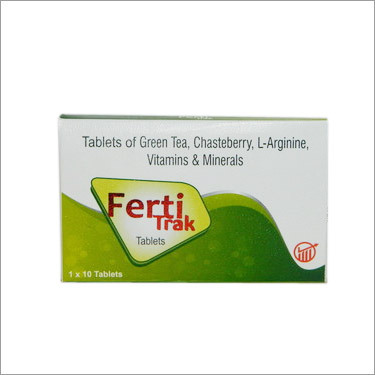 Female Infertility Tablet
Product Description
Female Infertility Tablet
Each film coated tablet contains (approx):

Green tea standarized (50% phenols)

200 mg

Chasteberry Standardized

200 mg

L-Arginine

140 mg

Magnesium Oxide Equivlanet to Elemental Selenium

200 mg

Iron (as Gluconate)

9 mg

Zinc Gluconate

7.5 mg

Vitamin B6 (as pyridoxine hydrochloride)

3 mg

Folic acid

200 mg

Sodium Selenite equivalent to Elemental Selenium

35 mg

Vitamin B12 (as cyanocobalamin)

6 mg

Vitamin E (as d-alpha tocopherol)

75 IU
Other Ingredients: Strach, Ethyl Cellulose , Croscarmellose Sodium, Polyvinylpyrrolidone, Talc, Collcidal Silicon Dioxide, Magnesium stearate, Cellulose acetate phthalate, Hydroxypropyl, Methylcellulose , PEG 6000.
Class II preservative and antioxidant, contains permitted synthetic food colours
Store in cool and dry place.
Protect from light and moisture.
Dietary Supplement.
Usage: As directed by Specialist.
Keep out of reach of children