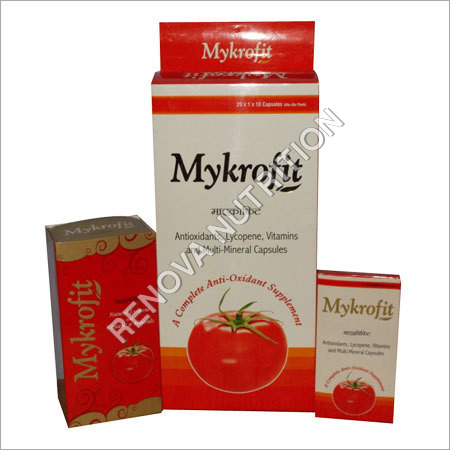 Antioxidant Supplement Capsules
Product Description
Guided by highest order of innovation and quality, we are noted as a leading manufacturer and supplier of excellent quality Antioxidant Supplements Capsules. The offered range of supplements prevents from cancer, heart disease and other life threatening ailments. These supplements are offered in various quantities so that our clients can avail as per their requirements. For this Antioxidant Supplements Capsules, we accept payments via various convenient modes of transaction. Attributes of the offered supplement are listed below:
Effectiveness
Non-allergic
No added preservatives
Nutritional Information:

Each hard gelatin capsule contains (approx):

Energy Value

2.04 Kcal

Carbohydrate

0.51 g

Fat

0.00 g

Protein

0.00 g

Lycopene 6%

5000 mcg

Dibasic Calcium Phosphate

75 mg

Lysine Hydrochlroide

50 mg

Ferrous Fumerate

45 mg

Niacinamide

25 mg

Zinc Sulphate

10 mg

Magensium Hydroxide

10 mg

Lutein 8%

6 mg

Pyridoxine

1 mg

Beta Carotene (10% dispersion)

1000 mcg

Folic acid

500 mcg

Copper Sulphate

500 mcg

Magnaese Sulphate

500 mcg

Chromium Chloride

200 mcg

Sodium Selenate

100 mcg

Biotin

10 mcg

Cyanocobalamin

5 mcg

Ch

10 mcg
Approved colours used in emty capsule shell.
Appropriate overages of vitamin added to compensate an loss on storage
Ingredients: Minerals, Vitamins , Lycopene, Capsule shell, Emulsifying and stabilising agent, Preservatives II.
Usage: As Dietary Nutritional Supplement only.